Business Model Innovation for a Circular Economy
The Circular Economy Service ceero. tackles the problem of increasing amounts of electronic waste. Via the ceero. website users can rent appliances which are designed for longevity and equipped with sensors to identify defective components. Moreover ceero. actively supports its users with repair tutorials to help them maintain their appliances.
Live Pitch with Questions from Frank Thelen (Tech Investor) and Walter Sinn (Managing Partner Bain & Company)
"The interdisciplinary approach to the topic, which is state of the art in economics today, has become particularly clear in this application. With methods from the fields of strategic design, business design, the lean innovation approach and empirical market research, the focus is on business administration. In addition to this, however, the presentation of the findings was presented in a highly professional form that is truly award-worthy."
– Willi Rugen, President of the Federal Association of German business academics and economists
E-Waste growth rates 2010 – 2020
according to Global E-Waste Monitor.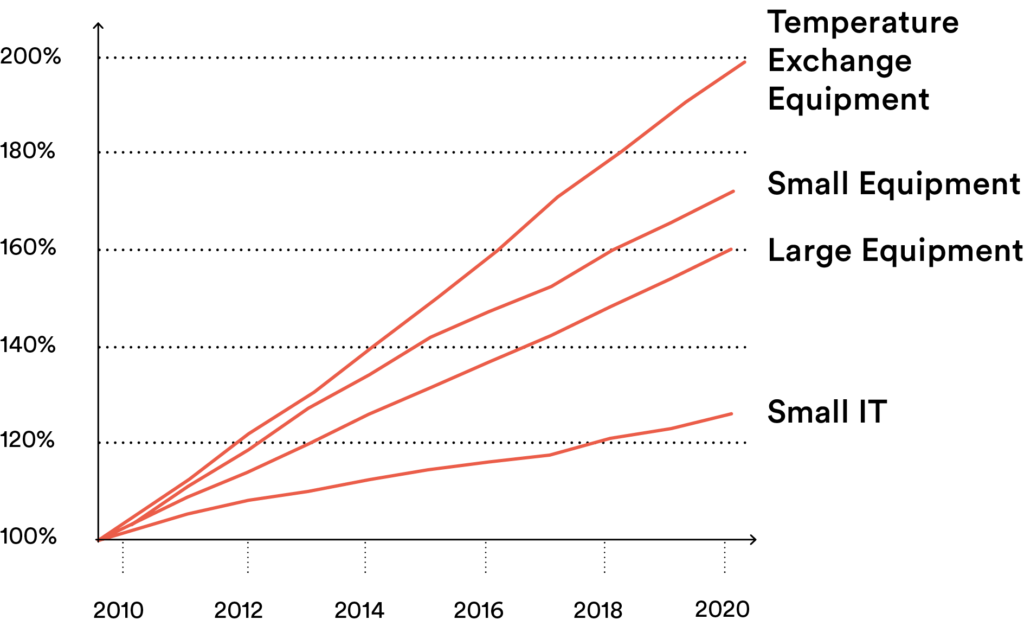 In 2016 more than 44.7 Million tons of electronic waste were generated, representing an estimated value of 55 billion Euro in raw materials. It is predicted that the amount of E-Waste will increase to 52.2 million tonnes in 2021. The increasing amount of E-Waste and its improper disposal and unsafe treatment – such as open burning in landfills – pose a considerable risk to the environment and human health. This makes the achievement of the United Nations Sustainable Development Goals a huge challenge.
Material used for a conventional dishwasher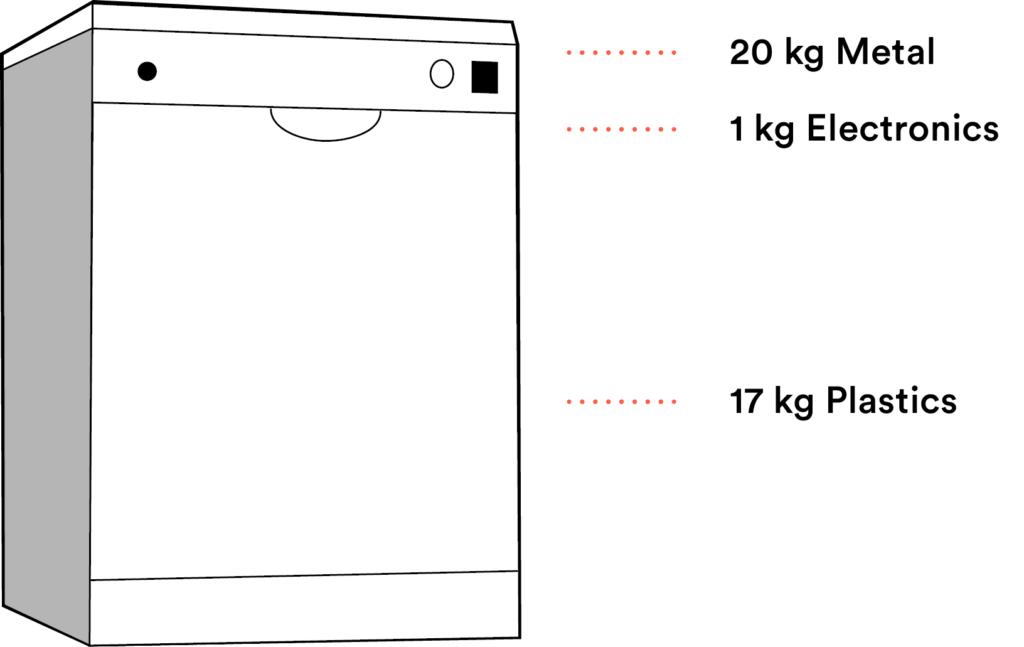 The true value of global E-Waste
Source: Stiftung Warentest 2018 | Global E-Waste Monitor 2017
In addition to a well-founded secondary research in the context of the Circular Economy, methods from the fields of strategic design, business design, lean innovation and empirical market research have been incorporated into the work. Likewise, findings from eight expert interviews with designers, engineers, management consultants, business angels and investment bankers were obtained.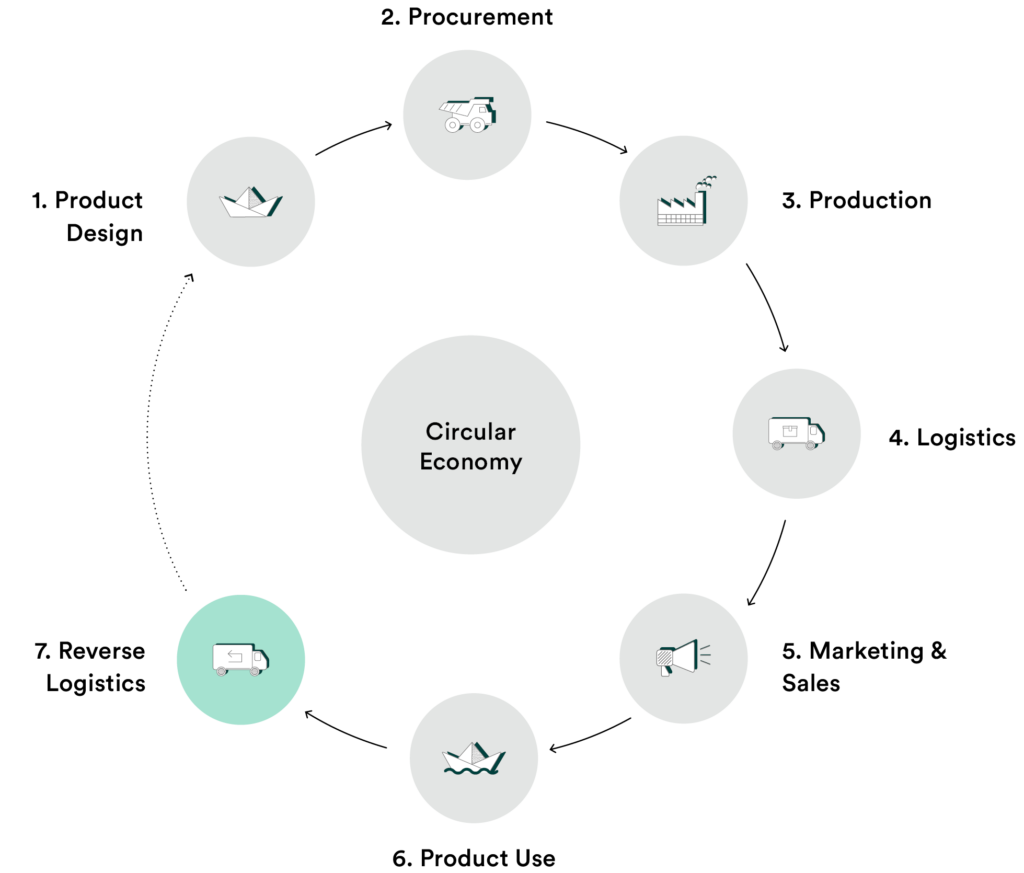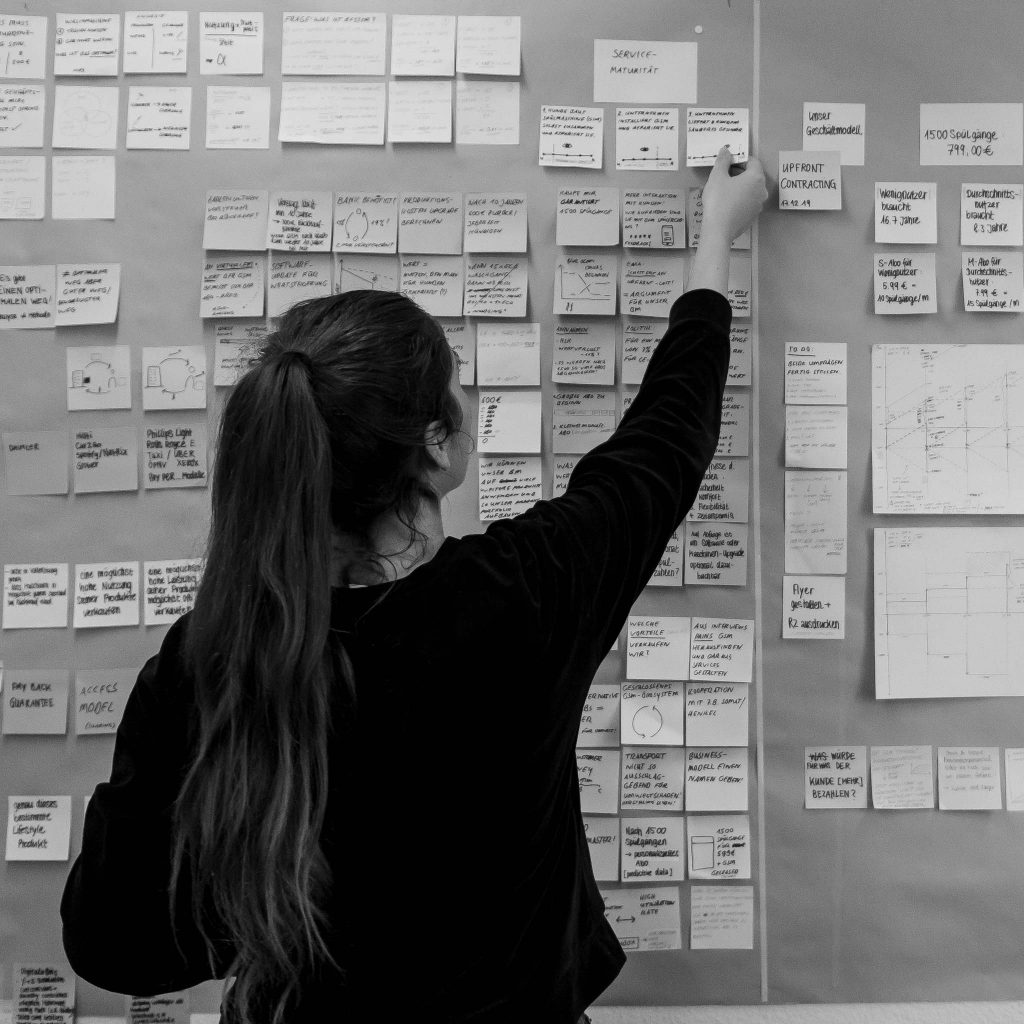 How might we assert sustainable products and services through Business Model Innovation ?
"You can't combine sustainability and profit!" – A dogma we heard continuously during the research process. We wanted to break this dogma and find an innovative solution. Instead of focusing on one sustainable product or service we wanted to create the right setting (system) for them to be successfully established on the market. To achieve this goal and the Sustainable Development Goal Nr. 12 "Responsible Consumption & Production", we discovered that an appropriate Business Model Design is key.
Opportunity Area:
Business Model Innovation
A business model describes how a company creates added value for customers and secures a return on investment for the organization.
Business Model Innovation is the most challenging approach to foster the circular economy. In contrast to process or product innovation, business model innovation also affects the way in which the product is offered and sold in the value creation process. In order to make the transition towards a Circular Business Model, companies often have to invest a lot of time and resources in educating customers and changing consumption habits that are deeply rooted – for example, renting instead of buying.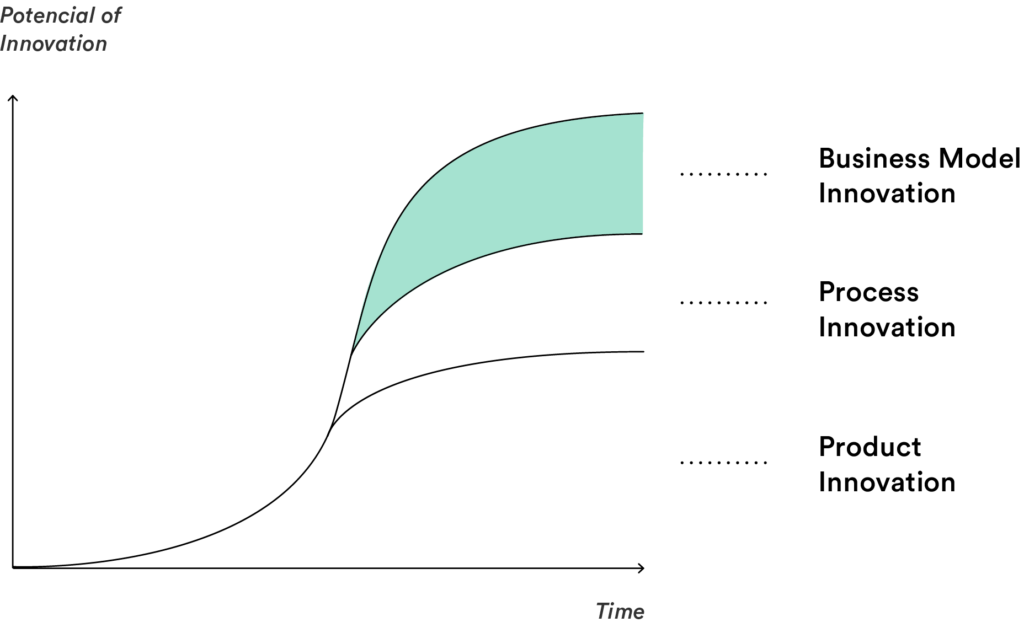 Source: Business Model Navigator 2017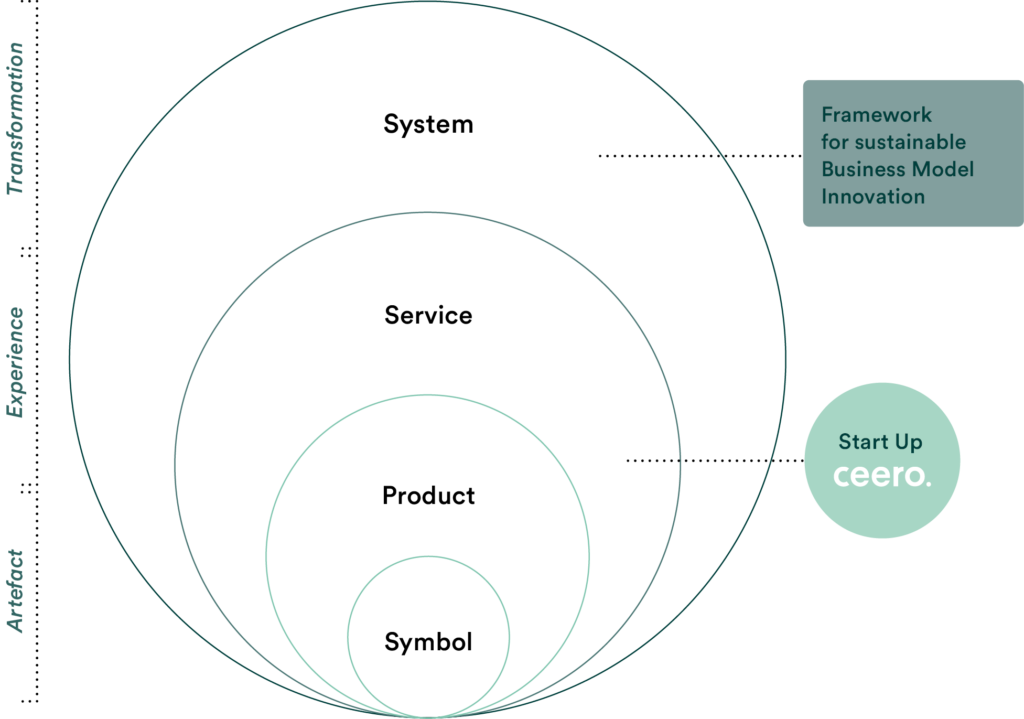 Buchanan's Four Orders of Design
Our thesis is divided into two parts: A methodical framework and a new sustainable business model, which is described through the fictional Startup ceero. The Four Orders of Design by Richard Buchanan structure the design and its radius of action in symbols, products, services and systems. Our aim is to create a systemic frame for sustainable products and services.

To prove that the framework is working and to make it more understandable for the audience, the three other aspects (service, product and symbol) were also taken into account and represented by ceero.
We analyzed more than sixty different business models for their contribution towards a sustainable economy. Further we focused on E-waste as our opportunity area. We came up with the idea that a performance-based-Business-Model in combination with new technologies can change the way electronic products are designed  fundamentally. Based on our analysis, the redesign of a dishwasher into a Product-Service-System offers the greatest impact in terms of reducing environmental impact.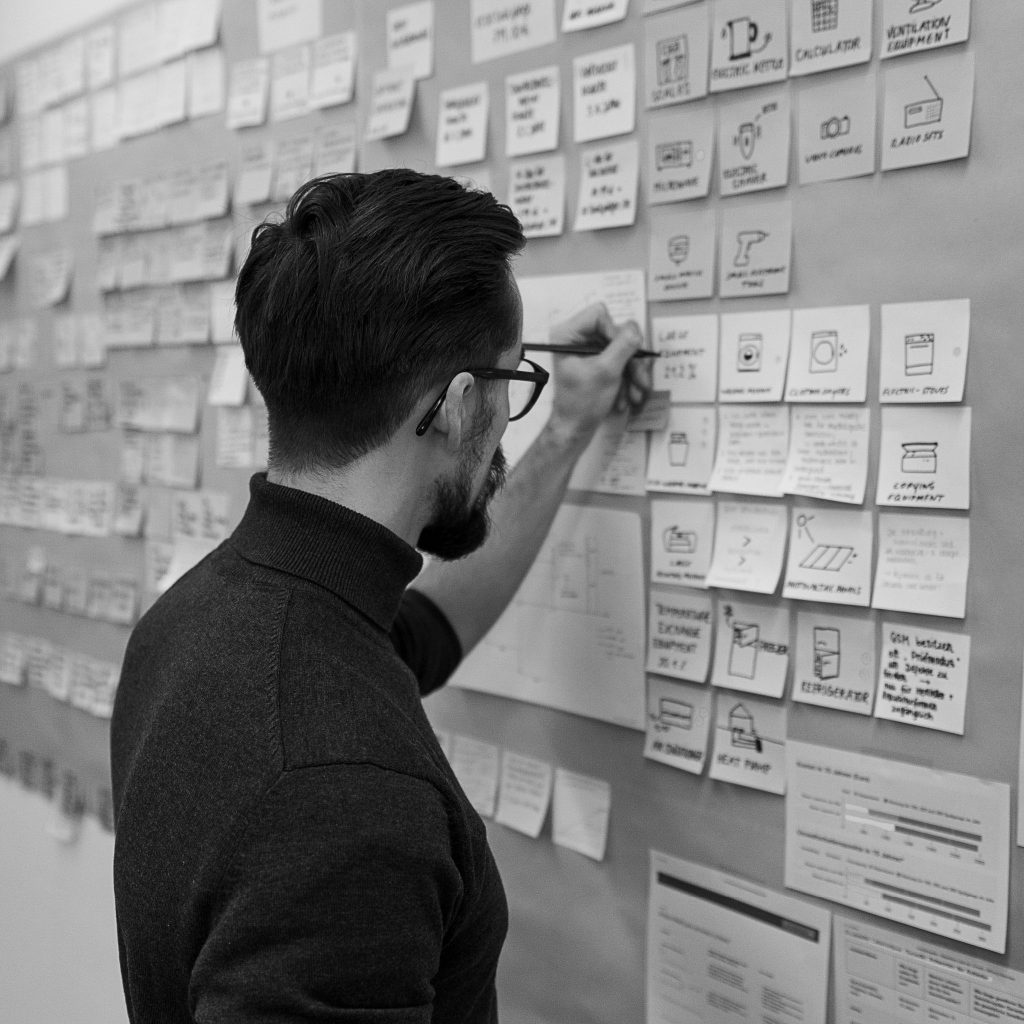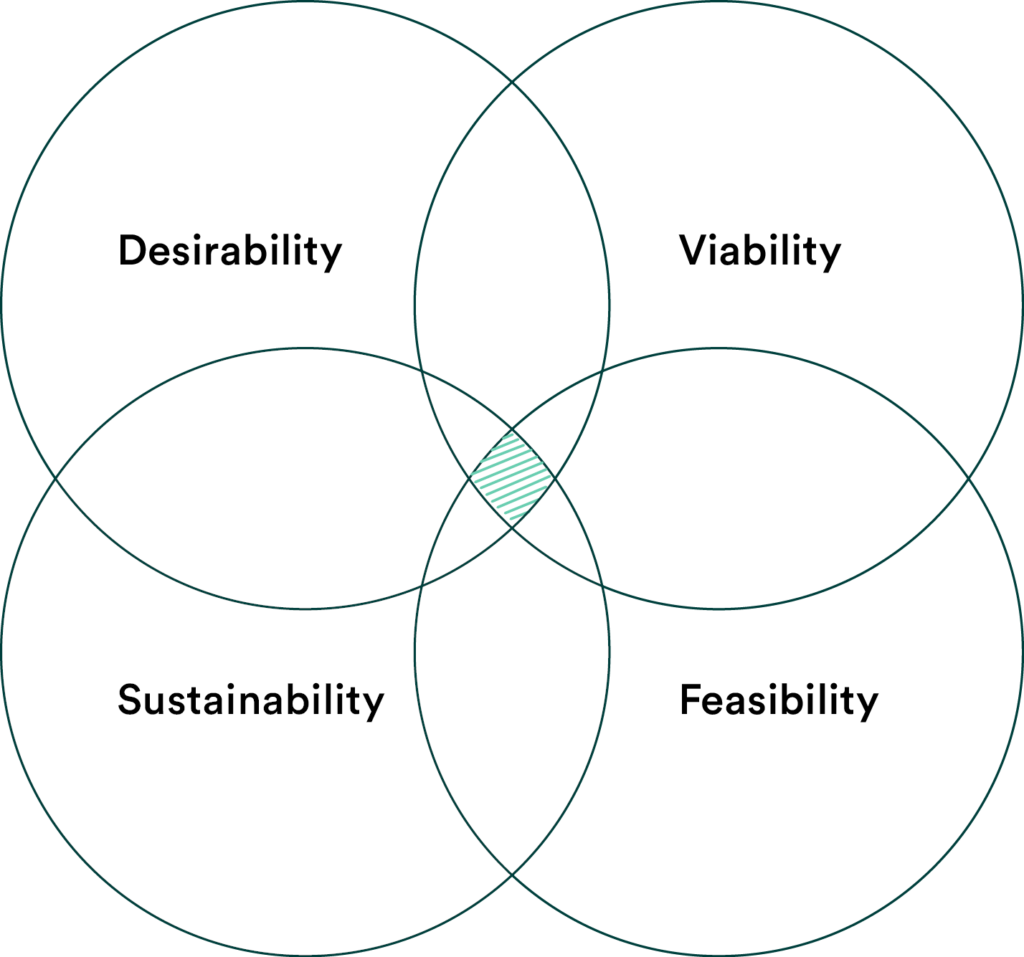 The new Innovation Sweet Spot
While using the model of the Innovation Sweet Spot by IDEO as a base, we soon found it to be incomplete.
We added a fourth layer to it – sustainability. In our opinion, the widespread influence and effects of an innovation should be included in all business considerations and planning – whether their impact is of ecological or social nature. A possible key question in this context could be: What positive, social and environmental effects will the product or service have?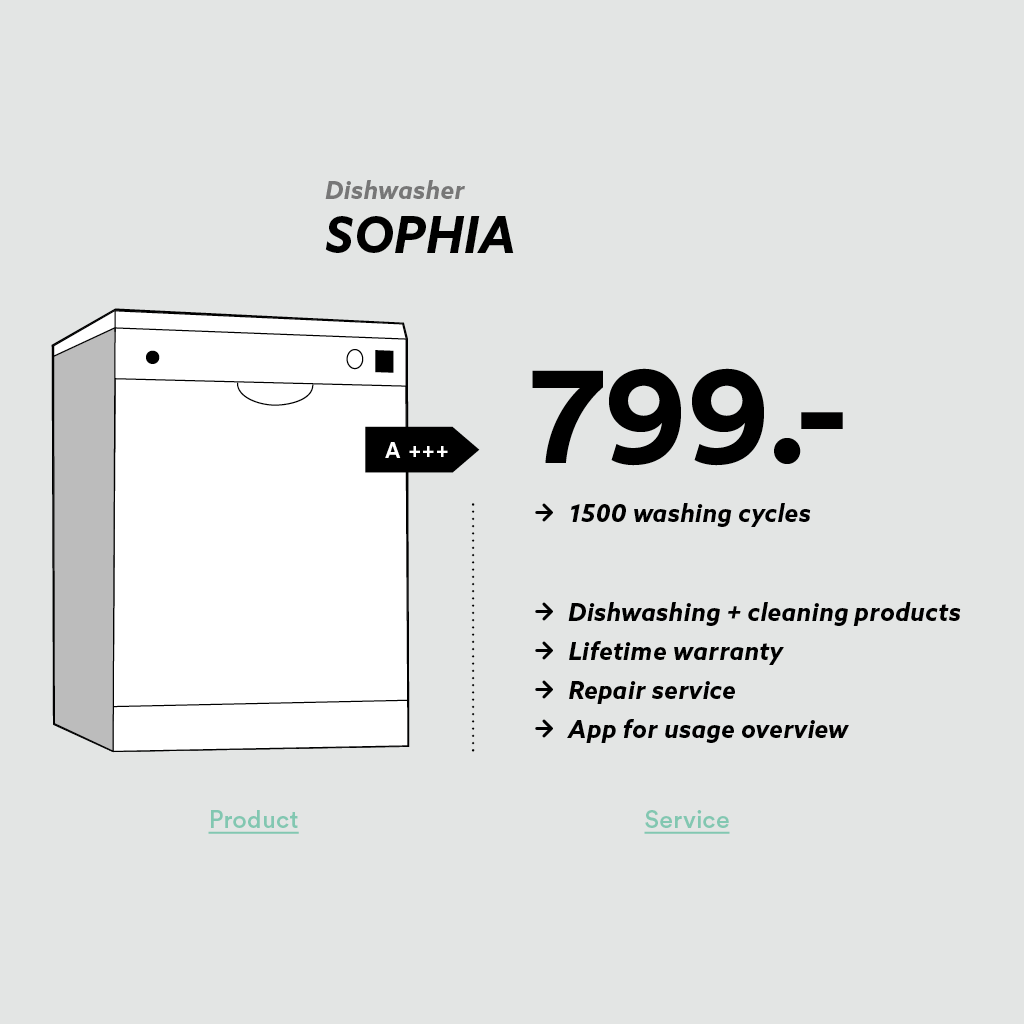 Based on our assumptions we developed a first Product-as-a-Service Business Model MVP for a dishwasher. We solved the problem of high upfront costs by offering a contract, which includes 1500 rinsing cycles. Moreover the service includes a full service package with the delivery of rinsing powder and cleaning products, a lifetime warranty, an application based usage overview and a repair service. An advertisement was designed to communicate the MVP and the pricing model with a realistic product image and the accompanying service offer.
To test the acceptance of the Business Model MVP, we conducted an empirical study with 250 participants. For the study we combined quantitative and qualitative research methods: One part of the study was an online survey which included questions about user behaviour and willingness to pay for certain offers. Besides, participants had to choose between a conventional, a rental and our MVP in an A/B testing. In combination with personal empathy interviews we again refined our knowledge about potential users.
Test Results and User Insights
250 participants completed the survey. This provided us with an excellent data base for directing our strategic decisions. We were then able to refine our business model MVP trough comprehensive calculations. 147 participants chose the classic model EVA, 72 went for our business model SOPHIA and 31 decided for MAYA.
After the survey was completed, we picked out eight people randomly to conduct personal empathy interviews. It helped us to better understand the users' decisions and behaviour and we were eventually able to determine our target group and its needs.
Importance of features for target group
Source: Own Data from user study, 2020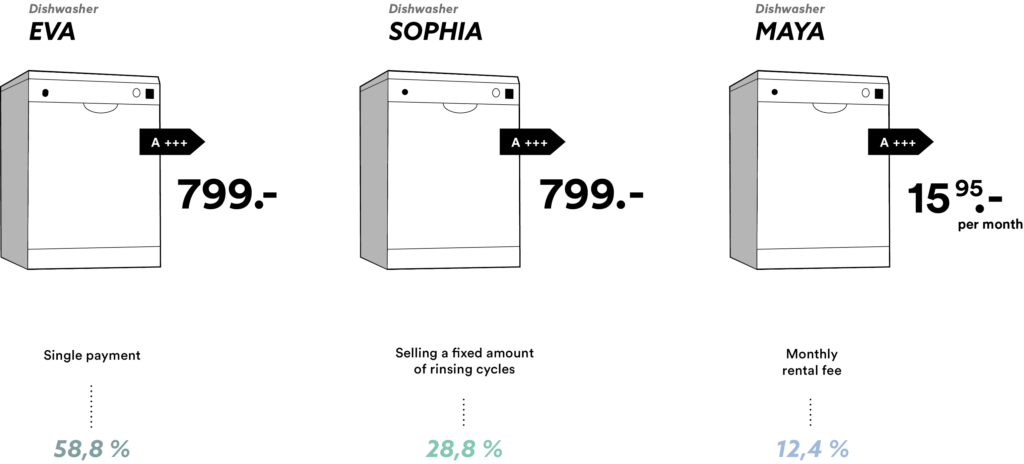 To obtain the Van Westendorp graphic (shown here), the collected data of the survey was checked for validity and sorted with the help of a spreadsheet program. By calculating the percentual distribution of the answers, the four curves for determining the Optimal Price Point could be drawn. A Van Westendorp analysis was carried out with the answers of all respondents and one of those who chose the SOPHIA offer.
Altogether, we identified 36 user profiles, but found out, that only 6 Profiles (14%) of the study's participants cause 59% of the total environmental impact. The data evaluation finally made it possible to draw up a comprehensive financial plan and to confirm previous assumptions empirically.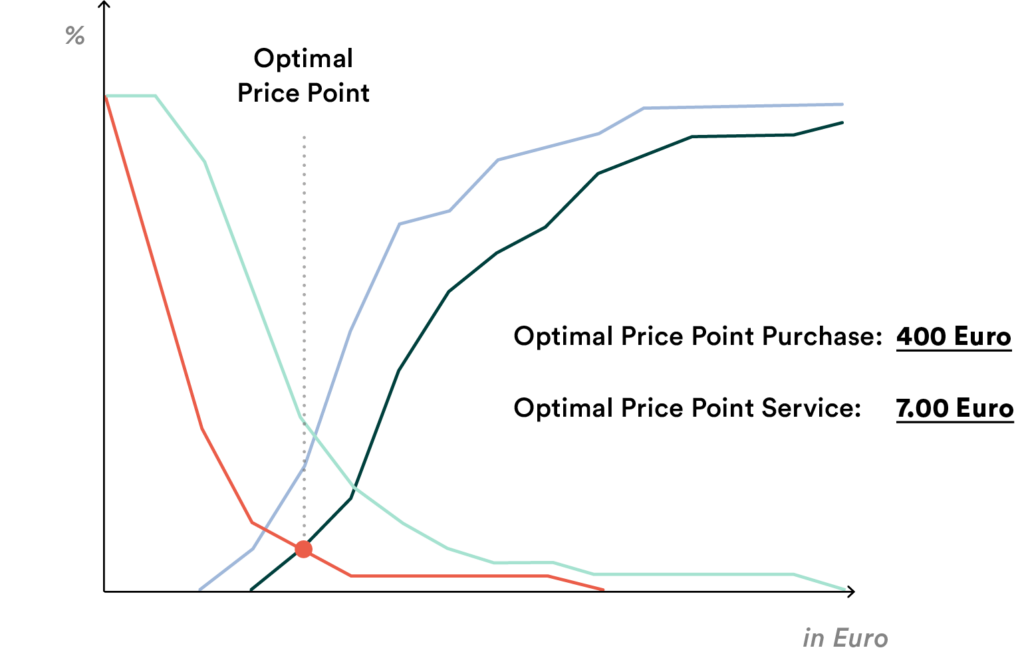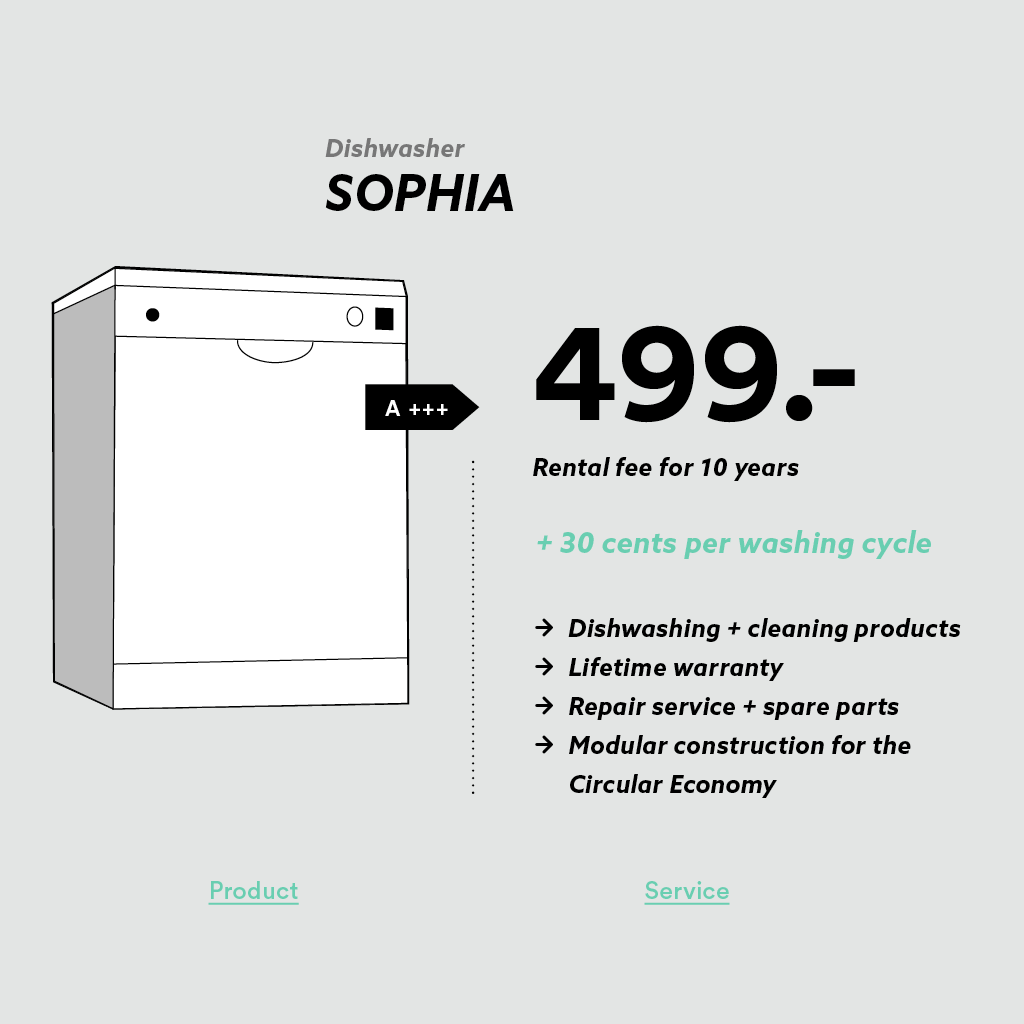 Using the insights from the first MVP and the study, the  final business model was developed. It combines economic, ecological and social interests. To communicate it appropriately, we developed the fictitious startup ceero. The generated revenue will be used to produce radically redesigned equipment based on the principles of the Circular Economy.
In conclusion, our project has to be seen as a call for designers and manufacturing industries to engage with the innovation of new business models to make an important contribution towards a Circular Economy.
ceero. – A Startup for the Circular Economy
ceero. specializes in the rental of large household appliances. In addition to a fixed rental price, customers pay for the performance through a pay-per-use model. The appliances can be ordered through the ceero. website. The products are designed for easy disassembly and remanufacturing to give them a second or even third life. ceero. takes full liability for any repairs.
However, users should be encouraged to repair the appliances themselves in case of a defect. Due to the built-in sensors in the appliances and the Internet of Things, damaged components can be detected and the user can reorder them via the website or smartphone app. All touchpoints and processes are designed in a sustainable way: Suitable dishwashing and cleaning detergents are supplied in environmentally friendly packaging and larger quantities in order to reduce the carbon footprint caused by delivery and transport. Instead of planned obsolescence – repairability and longevity are the key factors for ceero.'s longterm success. 

While ceero. was created on the applied level, we reflected all insights and findings back to the meta level and developed a framework, which should enable the transfer to future sustainable products and services. 

The framework combines methods from empirical market research, strategic and business design, as well as Lean Innovation. These methods are put into a new context and enable a multi-layered approach to answer complex questions.
The Framework for sustainable Business Model Innovation
Project posters, thesis & video
Master thesis 2019 / 2020
Strategic Design
Prof. Matthias Held 
Prof. Ulrich Schendzielorz
Miriam Brüne 
Andreas Kissling

Business Strategy
Business Design
Service Design
User Testing & Research
Financial planning
WIWO SUPERMASTER 2020
Wirtschaftswoche & Bundesverband der Deutschen Volks- und Betriebswirte e.V.
German Sustainability Award
Finalist | Stiftung Deutscher Nachhaltigkeitspreis
Beyond Plastic Award
Nominee | BEYONDPLASTIC Initiative